Hi All,
Well here we go with one of the oldest methods of viewing those who have passed. The Psychomanteum a mirror lined room used to see images of loved one's. There is good evidence that this approach existed since ancient Greek Times. Indeed they did form the basis for the "sleep temples", or, dream-incubation temples of Asklepios. Indeed these were also used for healing, people of that time who were unable to be cured of an illness would journey to one of these temples. In short, they would be put into a trance state of altered consciousness. The attending priest and/or physician would then give positive suggestions to their subconscious mind to facilitate healing. Often the patients would have dreams or see visions while in this trance state. Upon emerging, they would be healed. An early form of mesmerism or hypnosis obviously.
Now I have read reports of this set up in a simple way as an experiment in churches and will describe this shortly. Dr Raymond Moody a leader in Near Death Experiences and the author of many books including Life After Life has constructed a proper Psychomanteum (Mirror Room) for people to use because he is convinced of the theraputic benefts for the bereaved to see once again their loved ones. ( http://www.lifeafterlife.com/ )
It is possible to create a form of Psychomantium by setting up Mirrors in a suitable place Indeed some Mediums in Spiritualist Churches are reported to have succesfully done this. One reported, apparently that "it was a very strange feeling while looking into the mirror and your image goes from the centre of the mirror to the left and vanishes. He also set it up in a darkened room in the church and let members of the church in turn sit in front of it. He said it all became very addictive to them as they saw different images appearing before them in the mirror. The mirror in his case was facing him directly."
The set up can be seen in the following diagram.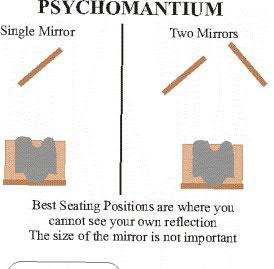 Cheers
Jim

Admin

Admin





Now that is completely new to me.
I have never ever heard of this subject before.
Fascinating!

Petal

petal34





Remembered something else about using mirrors.
I attend a healing class in another site and the meditation used was to visualise a room with four mirrors set within it.
We had to visualise those who needed healing gathered within the centre of the room in front of the mirrors.
We then visualised on light containing healing issuing from the mirrors to each sick person
Rather interesting but whether it worked is another issue.
Petal

petal34





Similar topics
---
Permissions in this forum:
You
cannot
reply to topics in this forum