This could be an interesting book but not cheap

http://www.dennymagic.com/cgi-bin/hazel.cgi?client=86747510&action=detail&item=007094

Admin

Admin





How does one write about something indescribable? Maybe it has pictures
Of course as the New York Times Reported on 7th March 1887 not everyone thought her work indescribable. The 6,000 crowd stormed the stage.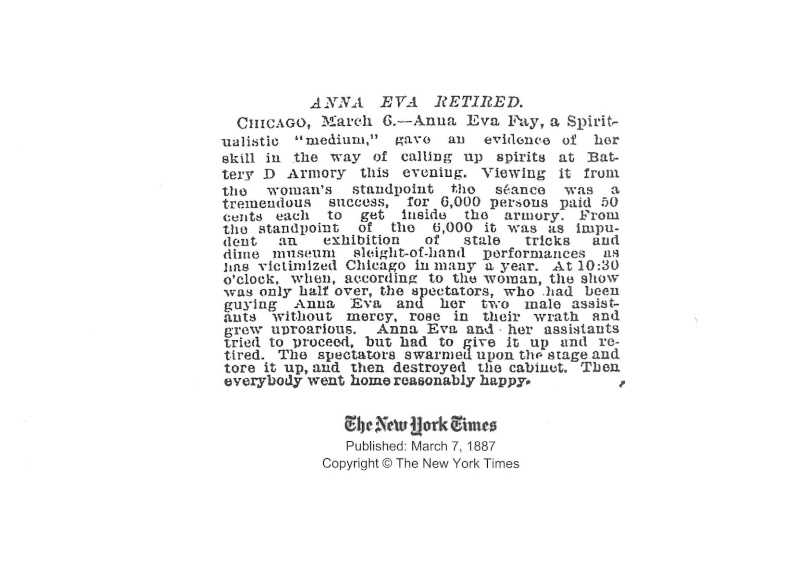 Admin

Admin





Of course Psypioneer has written its own commentary concerning this book

http://www.woodlandway.org/PDF/Leslie_Price_PP14_2005.pdf

Admin

Admin





Of course this is typical of the Newspaper reactions prior to her visits
The Frankfort roundabout. (Frankfort, Ky.) 1882-1908, November 24, 1906,
ANNA EVA FAY
The Oracle of Modern Times Comes to Capital Theatre Next Week.
Anna Eva Fay the world renowned oracle of modern times
will open three nights engagement at Capital Theatre Thursday
November 20 in a brilliant demonstlation of Mental Telepathy
Science has long since accepted telepathy as an assured thing and
doubtless Miss Fay has something to do with compelling this acceptance for she is unquestionably an advanced pupil in the realm of thought transmission without the
intervention of physical forces or agencies. Endowed with a full understanding of the limits of spiritualism and reared in a family of that persuasion Anna Eva Fay the most remarkable occultist of the present age while still a child went to India where she studied the supernatural arts of the Mahatmas
So proficient did she become that upon her leaving that country the high priests bestowed upon her the title of Fair Mahatma and to this day she retains the name.
She is said to be possessed of rare mental power by the aid of which she is able to rend the thoughts of others to locate missing things or persons and even read the future
She is however not a fortune teller nor clairvoyant She has appeared before almost every scientific body of the world. Frequenty she has been asked to describe her peculiar power but she herself does not know how.
What she does may be described but as to how she accomplishes so many mystifying things is impossible to describe and there have been few persons who have even hazarded an opinion
There is no doubt that the Theatre will be crowded during her engagement as in other cities the theatres have not been large enough to hold till crowds who have gathered to hear this wonderful little woman hundreds being turned away at every performance
15, 25, 35 and 50 cents Ladies free opening night with usual conditions

Very impressive

Admin

Admin





There is a lot more where that came from and I will continue my research.

Admin

Admin





THE ST. PAUL GLOBE. SUNDAY, MAY 22. 1904.
CLERK IS SUSPICIOUS
Anna Eva Fay's Question Bothers Hotel Man.
"Are there any letters for me?" inquired a frail little woman at the
Ryan hotel yesterday as she approachedthe desk and looked searchingly into the face of E. S. Bowerman, the clerk. "The name, please?" queried the clerk.
'Anna Eva Fay," the woman sententiously said.
"Nothing for you, madam," the clerk rejoined.
"Anna Eva Fay, Anna Eva Fay," the hotel man mused to himself, And then
he had an inspiration. "Why she is the woman who can tell what is contained in letters," he cried. "Here's an easy mark! Looking for letters for a woman who knows better than I do whether there are letters for her. It follows, doesn't it, that one who can read letters before they are opened is simply making a monkey of me by inquiring if there are letters for her? She knew all the time there was no mail for her, and if I had thought for just a moment before I got busy I would have refused to look. Still, she may be sincere, and may not have known whether or not there was mail for her. You can't always tell about these professional people."
Anna Eva Fay in private life is Mrs. D. H. Pingree, of Boston, and with her
husband and Miss Marguerite Jones,, also of Boston, was a guest at the Ryan yesterday en route from California to her home on the Back Bay.

Admin

Admin





Of course not every paper gave her such glowing coverage
Kentucky Irish American. (Louisville, Ky.) , December 02, 1905

FOOLISH

People Pay to Be Humbugged
by the Adept Miss Fay

Hand of the Artist Are Not
Tied During Cabinet Trick.

How She Works the Mental
Telepathy on the Credous Audience

SHE HAS MANY CONFEDERATES

Anna Eva Fay who has taken many dollars from credulous Louisville people
finds this city so easy that she intends to come back next week for more Her
mental telepathy is a fake but Anna Eva realizes that the American people love to
be humbugged The daily newspapers too have aided and abetted Miss Fay in her work and her next engagement promises big returns
Various exposes of Anna Eva Fays work have been published from time to time but the people still are credulous enough to pay good money to see her stunt.
She is not as good as Herrman and many other sleight of hand performers Miss Fay is apparently securely bound in a cabinet A committee tests the strength of the bonds and pronounces them secure. The fact is Miss Fay has never been bound at all although the committee may not know it.
She directs the work of the committee in testing the bonds that are supposed to
secure her. Very often the committee is honest in its intentions but after having been instructed by Miss Fay its members leave her unsecured. Hence she emerges from the cabinet without effort. Her hands have been free to bang tambourines and cymbals ring bells etc.
If the committee were to grasp the mediums two wrists and wrench them open suddenly the deception would be instantly seen. It is so absurdly simple when you once know how. Remember though that the members of the committee are in the limelight as it were and hence a little embarrassed As a consequence they agree to any suggestion made by Miss Fay
So much for the cabinet scene Now for the telepathy stunt An hour or more before this act pads of paper are distributed among the audience by Miss Fays assistants People who receive
these slips fold them up and secrete them in their pockets. One of Miss Fays assistants gives his word to the spectators that there has been no preparation about the paper and explains that they are given to assist those who wish to write questions and may be discarded if desired. When the questions have been written the assistant collects the pads and places them on or near the stage in full view of the audience Then the vaudeville entertainment begins and consumes forty five minutes or longer. Miss Fay then returns to the center of the stage. Her eyes are blindfolded and a sheet is thrown over her. Her mind begins to work rapidly from appearances and with dramatic effect she exclaims something after this fashion.
I see a lady in the leftside of the house She wants to know if she will find her diamond ring
Will the lady who wrote that question please raise her hand inquires one of Miss Fays assistants. The lady timidly raises her hand and the attendant is at once at her side. He grabs the paper from her hand and declares You are right Miss Fay Go on
You will find your ring says Miss Fay. Let me assist you I seem to see an old dress in a closet If I were you I would make a careful examination of that old dress as I seem to see something that shines like a gem a diamond.
Of course the woman who lost the ring is impressed
Is that right asks the assistant? She doesn't know But her indecision Impresses the people
The secret of this surprising second sight trick lies In the pads of millboard some of which contain carbon sheets under two layers of brown paper. The writing of the spectators is thereby transferred by means of the carbon paper to sheets of writing paper placed under
the carbon sheets. The genuine mill board pads that were distributed among the audience are laid on the stage or somewhere in full view of the spectators while the prepared pads are carried behind the scenes where the questions are read and the answers prepared during
the vaudeville performance It should be explained at this point that when an assistant hands a prepared pad to a spectator he puts a secret mark on it and this mark indicates the exact part of the theater in which the writer is seated
It need hardly be said that those who write on the genuine pads do not have their questions answered unless they are confederated or unless the assistant manages to get the paper in his hand in which case he transmits the question to Miss Fay by means of the secret code
Before going any farther it should be said that at least one third of the question are written by Miss Fay's confederates.
If Miss Fay had any real power of foreseeing the future she would make money easier than by exhibiting her charms at twenty five cents a bead She could tell where Capt Kidds treasure is buried or foretell deals in Wall street stocks movements in Standard Oil circles etc.
To us Miss Fay looks much like a humbug

Admin

Admin





Of couse her son married an Eva who went on to replicate the feats of her Mother in Law and became a competitor. Sadly that son committed suicide in 1908.
San Francisco Call Mon Dec 21st 1908
EVA FAY'S HUSBAND
COMMITS SUICIDE
Blows Out Brains With Revolver
in Oakland Hotel; Attributed to Despondency
Spouse of "Wonder Worker"
Kills Self on Eve of Leaving for Denver

son of Anna Eva Fay, the mind reader, and" husband of Eva Fay, a "wonder
worker," who completed an engagement at an Oakland theater, last night,
committed suicide in his, apartments on the sixth floor of the St.Mark's Hotel
in Oakland at 4:15 'o'clock yesterday afternoon by shooting himself through the mouth with a revolver.
The reason for the suicide is a Mystery, although it is presumed that Fay was despondent on
account of the lack of success which had attended his wife's present tour through the west.
Mrs. Fay,with her ;maid, was in room 617 when she heard the report of a shot in room 619, adjoining, where she had left her husband. Throwing, open the door she found him gasping for breath with blood gushing from his mouth. "Drs. Dudley Smith, John Dunn and A.S. Kelly were summoned, but Fay was dead when they arrived.
Fay and his wife had finished dinner and retired to their apartments just prior to the suicide. Their engagement at the theater closed Saturday and they were preparing to leave for Denver, where Mrs. Fay was booked for next week. They shipped, their baggage and purchased their tickets earlier in the day. ,
Mrs. Fay was prostrated by her husband's death. She; declared that he had never expressed a; thought of suicide and that he seemed to be in his usual spirits when they left the dinner table.
Fay was a Mason and a member of;the Elks. In his pockets was found $109.20 and several valuables rings and fraternal emblems were, on his person. He was 31 years old and a native of Ohio.
The body will be shipped to Boston for burial

Admin

Admin





Interesting how stories change over time in article above from the The Frankfort roundabout. (Frankfort, Ky.) 1882-1908, November 24, 1906,
She travelled to India as a child where she learnt abot the Mahatmas.
In this one, thirteen years earler, no mention of this, she was in England and interested in Madam Blavatsky and Theosophy
The Salt Lake Herald. (Salt Lake City [Utah) April 16, 1893,
MYSTERIOUS FAY
She Talks About Her Extensive Travels in Europe

Madam Blavatskys Talking Head
Unique Sights and Customs.

Seance at theSalt Lake Theatre Tonight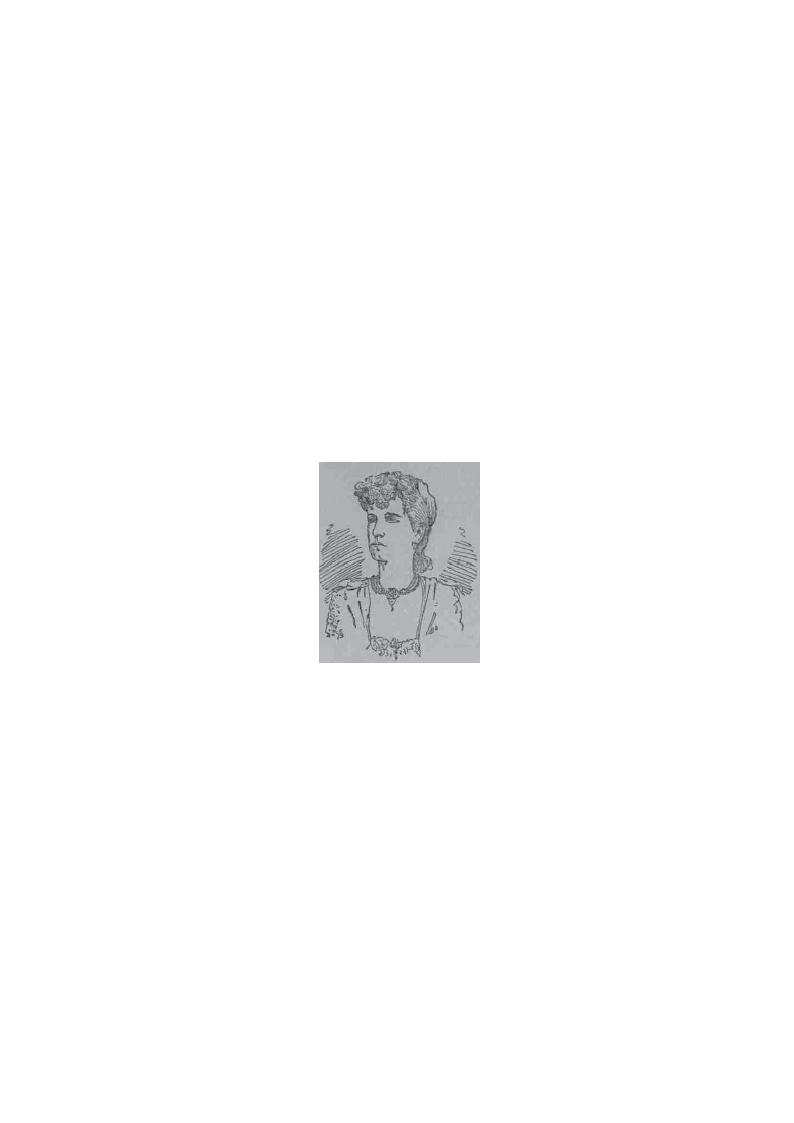 MissAnna Eva Fay arrived in Salt Lake yesterday Her name is familiar to almost the entire civilized world as of a
woman who possesses most wonderful and fascinating powers as to what the people choose to call a spiritualistic medium She has recently returned from Europe where she has given illustrations of her peculiar power to the crowned heads of effete monarchies from the Mediterranean to Siberia Sea was called upon by a HERALD reporter at her hotel last evening and proved to be a most
charming interviewer both as to personality and the story she told of herself.
Miss Fay is a little woman with an abundance of blonde hair and the brightest of blue eyes She chatted most entertainingly of her recent trip abroad and finally in answer to one or two questions began to talk of her mission in traveling about the country as she does4
I was born she said in Louisville Ky but have spent many years of my life abroad. When I was 11 years old I began to develop my peculiar powers and have been giving exhibitions most of the time since.
The chief interest to her in what she heard and saw she said was in those things pertaining to Theosophy of which she has been making a study as well as other branches of occult science. I have one particular purpose she said in which I am much interested. Among theosophists especially those who were intimately associated with Mme Blavatsky the late renowned high priestess of
their sect there is a strong belief that she received inspired instructions through a mysterious head that is kept in a temple in
Bombay and that all the advanced doctrines of theosophy came to her in this way. Since her death no one has been able to get any communication through this image. If I really have such powers as people attribute to me and being a firm believer in theosophy I should be able to get communication through this image At least I am going over there to try and if possible bring it back with me
Miss Fay talked a little about her various experiences. I am an American she said and was born in Louisville Ky living there until I was six years old when I went to England where 1 was brought up. Both my father and mother were spiritualists and my mother was
a very effective medium. I began giving performances when I was 13 years old and have continued ever since. During my recent tour in Europe I visited every capital in the old world from St. Petersburg to Constantinople-.
Miss Fay wears a beautifully jewelled gold braided watch chain which was given her by the emperor of Russia before whom she gave an exhibition of her powers-.
Miss Fay will remain in this country until after the Worlds fair when she will make her third tour of the world going by way of San Francisco to Australia, China and India where she hopes to get the mysterious image or head to which reference has already been made.
Miss Fay is about 32 years of age petite of figure with a bright face and an agreeable manner She talks rapidly and intelligently and is evidently if one may judge by her bearing and conversation a rapt enthusiast on occultism.

Admin

Admin





My word this story even has 1,000 dollar challenges, death threats and an attempt to drive out the faking mediums an early attempt to deal with bad psychics

Los Angeles Herald, December 30, 1907

THREATEN LIFE OF
GENEVIEVE CLEVES
Woman Who Is to Expose Methods of
Fake Mediums Receives Letters - Will Give
Exhibition


Spiritualists In Los Angeles were much exercised yesterday when it was learned threats had been made to do serious personal injury to Miss Genevieve Cleves, who is to expose the work of fakers and spook raisers at Simpson auditorium tomorrow and Thursday nights in her entertainment entitled "Death of Modern Spiritualism."
The open challenges made by Miss Cleves to all the So-called spirit mediums in Los Angeles and also to Anna Eva Fay, whom the former declares posed for thirty years as a spirit medium all over the country, to come to Simpson auditorium either tomorrow or Thursday evening and prove any one of them could do anything by spirit or occult power, and if they could, Miss Cleves would forfeit one thousand dollars to Anna Eva Fay and one thousand dollars to each medium who could prove the possession o£ spirit power, brought disrnay to the hearts of the fakers and spook raisers.
'Anna Eva Fay denies she ever pretended to be a spirit medium. The spirit mediums in Los Angeles viewed the challenges of Miss Cleves with alarm, for they realized that with the exposure of the cabinet work, slate writing, card reading and ballot tests, to be made by Miss Cleves at Simpson auditorium, the source of income to the fakers and spook raisers would be shutoff.
Finds Threatening Letters
Yesterday morning Miss Cleves found two letters at the door of her rooms, and they contained the direst threats if Miss Cleves publicly exposed the tricks of the fakers and spook raisers. The letters were anonymous, one being signed "A Medium," while the other was signed "Revenge."
Miss Cleves was not alarmed by the threatening letters and declined to take the advice of friends that she ask for police protection.
"This is nothing new to me," said Miss Cleves in speaking of the threats made against her. "I am not afraid in the least, "she continued, "and will give my entertainments Tuesday and Thursday nights as announced. I have been threatened before in other cities, and on one occasion in Chicago, a poisoned box of candy was sent me. I have only consented to give my entertainments at the urgent request of prominent people who are trying to stamp out the work of the fakers.
Like hundreds of thousands of spiritualists 1want to see the fakers put out
for they work fearful harm on the communities, I have been informed that In Los
Angeles one hundred and seventy-two divorces have been filed in the past year, due entirely to the evil advice of bogus mediums."
Cause Much Misery
"It is awful to contemplate the misery that is wrought by those mediums and fakers. Homes are wrecked, children separated from their parents and money filched from those who have worked hard to make a competency for old age."
"One case occurred In Arizona recently where a woman left her husband on the advice of a swindling medium and faker, and then she was induced by the man to invest twelve thousand dollars in a bogus mine he owned. That woman is now in Los Angeles trying to get a divorce, and nothing one can tell her will make her realize she has been duped.
"There are many cases also where married people are leaving their lawful mates to consort with 'affinities,' and do so by the so-called spirit power of faking mediums."
"I know of another case here in Los Angeles where a man was induced to get a divorce from his wife and an "affinity' was foisted upon him by the aid of a medium in order to get control of his money.
"It is no use telling people who believe in the fakers they are being duped. They always say 'Give me the proofs.'
"In my entertainment, 'Death of Modern Spiritualism,' 1 will duplicate all the tricks performed by so-called mediums and also by Anna Eva Fay, and will then show my audiences, and a committee how the tricks are done. When persons who believe in the mediums see how the tricks are accomplished, they will at once realize how they have, been duped. My challenge to Anna Eva Fay remains open for her to prove that she is controlled by spirit power or disprove
that she ever posed as a medium throughout the country and made considerable by it."


Los Angeles herald, December 29, 1907
DOUBLES SUM OFFERED TO
MEET FORMER MEDIUM

Replying to the statements of Anna Eva Fay, Genevleve Cleves has doubled
the sum she offered to meet the former spiritualist, and a purse of $2000 is now up.
Miss Fay has refused to consider the offer of Miss Cleves to meet her on the public platform, claiming she never advertised herself as a spiritualist and that the first offer of $1000 was too small for her to consider.
"If that is so," scid Miss Cleves yesterday, "I will increase my offer to $2000.
All I ask Anna Eva Fay to do is to perform some of her so-called spiritualistic
stunts on a public platform and I will agree to perform the same and prove they are tricks.

Admin

Admin





---
Permissions in this forum:
You
cannot
reply to topics in this forum