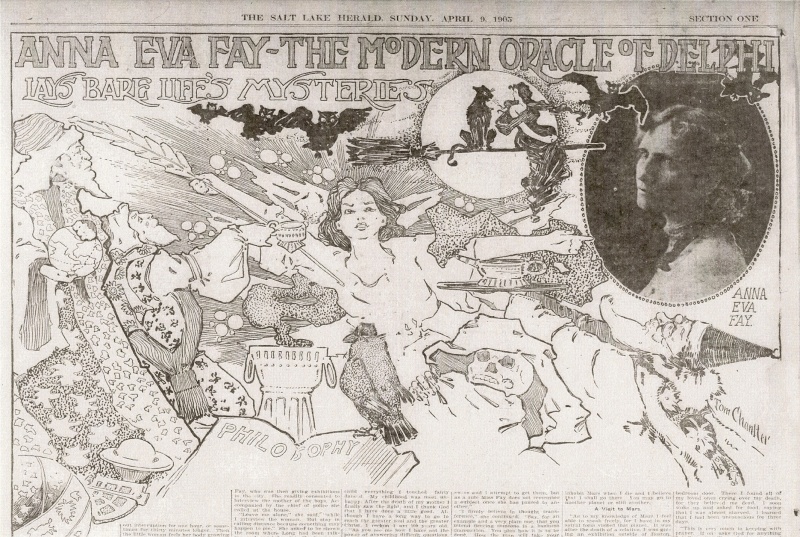 I will follow this up with my article

Admin

Admin





Anna Eva Fay - The Modern Oracle of Delphi
Lis and Jim Warwood ©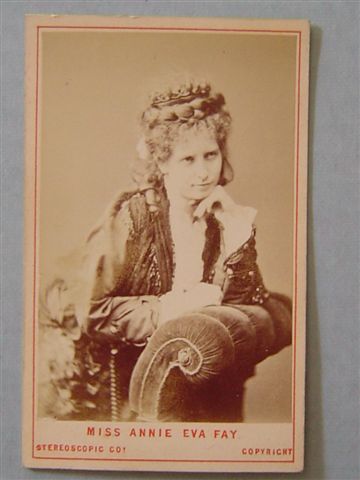 By April 8, 1905 when The Salt Lake Herald published an article, 'Anna Eva Fay – The Modern Oracle of Delphi Lays Bare Life's Mysteries,' Anna was established as a major vaudeville performer whose peculiar 'abilities' were the highlight of her travelling show.

The article described the glamour and mystery with which Fay surrounded her activities. It reported in vivid terms the experiences she claimed to have had as a young woman - an "American Girl," residing in the "town of Burmah, India." It was there, she claimed, in a "pyrimidical (sic) tent," Anna sat communicating telepathically with a "High Priest, known the breadth and length of India," learning all the occult secrets with which she went on to "startle the world."

The Frankfort Roundabout, a Kentucky newspaper went even further on November 24, 1906, in its review of her impending visit, boldly claiming Anna Eva Fay was "endowed with a full understanding of the limits of spiritualism," and was "the most remarkable occultist," who "while still a child went to India where she studied the supernatural arts of the Mahatmas. So proficient did she become ....the high priests bestowed upon her the title of Fair Mahatma."

Such fanciful tales created a wonderful and exotic image of Anna Eva Fay, and helped to project an aura of mystery and occult skill. In reality, it is highly unlikely that Anna Fay was ever in India, nor for that matter "Burmah"!

Anna was born Ann Eliza Heathman, February 1851, in Southington, Ohio, the daughter of a cobbler. After troubled family circumstances she apparently left home at an early age and began to exercise skills that indicated abilities as a medium. Around 1871, Anna met the man who would become known as her husband though it is doubtful they ever married. Henry Melville Cummings 'Fay' also became her business partner and it was he who allegedly helped her develop her 'mediumship skills'.

Henry was a medium with a very dubious reputation. In The Spiritual Magazine of Dec 1, 1867, Benjamin Coleman wrote an article on H. Melville Fay in England. Coleman made clear Henry Fay was not to be confused with William Fay, the man accompanying the Davenport Brothers. This was a common error made at the time, and one which Barry Wiley, in a 1983 article, The Fay Family Fight, indicated may have been deliberate on Henry's part. Coleman also claimed that Henry's "power as a medium was too feeble to enable him to live" and that in fact he had therefore made his living by touring to "expose the 'imposture' practised by Spirit Mediums".

When Henry toured England he travelled to Huddersfield where he met Mr. Howarth, a leading Spiritualist, who invited him to run a séance. Unfortunately for Henry, Professor Gunning, a citizen of Boston, was present and denounced him as one who had been exposing Spiritualism. Henry claimed he had done so on one occasion only, and the séance went ahead, without the Professor, who left in disgust. When the Professor returned the next day with a copy of Banner of Light containing a report on Henry's full career, the mood of the Spiritualists turned unsympathetic and Henry was obliged to quickly leave.

This then was the man who became Anna's partner for the first 17 years of her career, up to his death in 1889. Yet, when he and Anna came to London in June 1874 to work, no one was overly concerned with the past. Their act drew great acclaim, notably attracting the interest of both Sir William Crookes and the magician J N Maskelyne. In 1932, Maskelyne's grandson Jasper, published a book called White Magic. It records that Anna set up as a Spiritualist rival to Maskelyne's Egyptian Hall Magic Show and states "at first no supernatural aid was claimed", but that after some time she was achieving her séance performance with the aid of a spirit called "Sweet William".

William Crookes undertook to investigate Anna Fay. The tests were spread over several days but the key séance occurred on February 19, 1875. On this evening Sir William was joined by several other scientific researchers, including Serjeant Cox, his helper in the research on D. D. Home. The key control method used was a galvanometer where the medium was to grip a handle either side of a battery to ensure a complete energy circuit.

A similar control was used in experiments with Florence Cook, and the scientists pointed out a weakness. Adjustments were made to overcome potential problems and with Mrs Fay in position, the lighting was reduced to one very dim gaslight. Almost immediately a variety of visual and audible events occurred, with items also appearing in the room from other parts of the house. At the conclusion of the session all observers agreed that the phenomena which occurred were genuine and that the flow of current was maintained.

Deborah Bloom, in Ghost Hunter, records that around the same time Frederick Meyers persuaded Anna to attend a separate test séance with Sidgwick. With different controls no phenomena occurred and they both dismissed the claims of Anna being able to produce genuine phenomena. Despite such contrary indications, Crooke's findings that Anna was a genuine physical medium, were published in the 1875 Spiritualist under the title A Scientific Examination of Mrs Fay's Mediumship.

Maskelyne, among many others, did not accept the validity of the tests, and suggested ways in which Mrs Fay could have beaten Sir William's controls. The magician soon incorporated all of Anna's phenomena into his show, and regularly stopped to explain to the audience how it was done. Years later Maskelyne's ideas on the subject of both Mrs Fay and the Davenport Brothers were the subject of a newspaper article, titled "A Chat with John Maskelyne," which circulated widely. On July 27, 1885, a copy was published in the Nelson Evening Mail in New Zealand. In the article Maskelyne claimed that on May 12, 1875, he had received a letter from Anna offering to expose all of Sir William's scientific tests for a guaranteed sum of money. He alleged he had also been informed by Mrs. Fay's manager that for a sum of money they were willing to pass on the way by which Miss Fay conducted her show. Maskelyne declined the offer, being already sure he knew how she had beaten the tests and how all the tricks were done.

Anna returned to America in July 1875, and from then on she neither suggested Spirit was involved nor ever admitted her performances used trickery. She made no public statement about cheating in the galvanometer test, although there is some suggestion she privately boasted about it.

Those wishing to debunk the claims of Spiritualists often targeted Anna Fay. On May 18, 1876, Irving Washington Bishop, a one time assistant, and possibly manager of Anna, gave a public exhibition at Chickering Hall, New York, at which he performed all of Anna's feats and explained to the audience how they had been done. This was widely reported in newspapers and magazines.

One editorial, headed Spiritualist Humbug Explode, in the June 1876 Manufacturer & Builder Magazine, drew a letter response from Dr. Von Vleck, the "Spiritualist Medium Detective," published in August. Von Vleck's letter stated that in late August 1871, he had met Henry Fay in Cincinatti, Ohio, just before a séance. On inquiring whether Mr Fay had any new additions to his repertoire, he was informed of a new one involving the use of iron rings. Von Vleck claimed that Henry, concerned that Von Vleck would seek to expose the Fay's, would not go ahead with the séance until Von Vleck promised to remain silent, which he did, provided they did not make mention of Spirit intervention and allowed him to learn the new trick.

Such exposures did not, however, stop Anna from performing, and she continued to travel around the country, with newspapers generally presenting her act as one of wonder, be it trickery or not. By the late 1880's, however, she appears to have largely worked only the provincial towns. This preference may relate to two incidents; the first in New York, where The New York Times wrote, on December 9, 1886, in an article headed No Bodies Materialised, that her feats were nothing more remarkable than everyday magicians. It suggested "the audience went out with vigorous growls of disappointment".

The second event occurred in Chicago on March 6, 1887, where 6,000 people attended her séance at a charge of 50 cents each. On March 7, The New York Times called it an "impudent exhibition of stale tricks" and the audience only left happy after driving Anna and her helpers off stage and smashing up her equipment.

Throughout her career, the first section of Anna Eva Fay's act involved being tied up in a cabinet after which variety of tambourines buckets and banjos would be thrown out. In the early years this spectacle, reminiscent of the work of the Davenport Brothers, was shrouded in mystery, however, in the later years her approach made it far more humorous than mysterious.

The second part of her public act involved "thought transference" where Fay answered questions written by audience members on notepads provided for the purpose by Anna's attendants. The written slip would remain with the individual while the blank notepads were returned to the stage. After going into a state "somnolency", as the Fays defined it, Anna's eyes were bandaged and she was wrapped in a sheet and placed in a chair. The particulars of the act may have varied over time, but by 1905 the regular pattern involved her suddenly pointing her arm forward then swinging it round until settling upon one direction, upon which she would call out the name of a person in the audience and their question followed by an answer, which was invariably confirmed as correct.

Anna Fay's son John Truesdale Fay was born in 1877, and eventually he also worked in the act. This added to the criticisms levelled against her, with the suggestion that he hid under Anna's skirts and took an active part in helping produce the phenomena. To counter this Anna undertook a special performance, and on March 13, 1893, the Atlanta Constitution published the headline "She Convinced Them" - "Anna Eva Fay Shows the Newspapermen that no boy is Hidden in her Skirts".

Sadly, when John married, he and his wife Eva Dean, split from Anna and set up their own act, modelled entirely upon Anna's performances but with a variation in presentation, using an Egyptian theme. This caused a rift between Anna and her son which was only resolved shortly before John's untimely death in San Francisco in December, 1908, after an accident with a revolver. Anna had her son's body interred in a specially built mausoleum at her home Heathman Manor in Melrose, Massachusetts. The feud between Anna and John's widow continued, however, unabated until Anna's own death.

Writers on Anna Eva Fay have often reported that Anna Eva Fay married David H. Pingree in 1881, after divorcing Melville Fay. Descendents of the Pingree family, however, assert that she married Pingree in Canada in 1889, after Henry Fay had died. An obituary in The New York Times published May 30, 1889, records that on May 29, in Cleveland, Ohio, "H. Melville Fay, the well-known spirit medium and husband of Anna Eva Fay, has just died in hospital of cancer of the tongue."

In 1906, Anna was arrested in Pittsburgh for telling fortunes, an event recorded in The Harford Courier on Dec 28, 1904. Amazingly enough she was bailed the same day and continued with her act, and apparently the charges were dropped. In 1907 she received one of her most interesting challenges a when Miss Genevieve Cleves announced in The Los Angeles Herald on Dec 29, the production of her work, "Death of Modern Spiritualism An Expose of the Work of All So-Called Spirit Mediums," with its "One Thousand Dollar Challenge to Anna Eva Fay".

Cleves' challenge to Anna was that should she or any other Spirit Medium come and prove they had Spirit contact on the stage with her she would pay them $1,000. Subsequently she offered to raise that to $2,000 when Anna said she would not even be bothered to consider such a small sum. Miss Cleves said in the newspaper report "Like hundreds of thousands of spiritualists I want to see the fakers put out for they work fearful harm on the communities."

As ever, Anna quietly ignored the challenge and carried on her shows which continued to draw large crowds. By this time, it seems to be accepted that she used trickery even though it was never mentioned. A report on the vaudeville shows for the summer season on Coney Island, in The Salt Lake Herald on July 3, 1910, draws attention in particular to Anna's show. It describes the fact that the imprint of the pencils used leaves a mark in the notepad by the use of chemical residue and how this was used by Anna, yet indicates how enjoyable the show was especially as it had a constant reference to the local horse racing with regular requests for the winners. The article goes on to say that Anna's agents kept her up to date with news and hot tips from the stables.

In 1913, the Magic Circle, co-founded by Maskelyne and David Devant in London, where it still resides, made Anna its first Honorary Lady Associate Member, despite her earlier conflict with Maskelyne, together with the hostility of some magicians because she had never publicly acknowledged she used magical trickery. In 1925 Anna retired after a leg injury sustained whilst performing. Subsequently she became friendly with Houdini and was part of the group who were involved in the controversial séance with Mina Cranden, where both sides claimed they had been vindicated.

Anna died of heart disease on May 12, 1927, at the age of 76, and was buried in the Mausoleum at her Melrose home with her son. Five years later, Houdini claimed in his book Magician Among Spirits, that Anna had told him how her tricks done, however, her biographer, Barry Wiley, asserts Houdini's report "was pure fantasy."

Whether Anna Eva Fay's public performances were entirely based on trickery, or included the use of genuine psychic abilities remains uncertain. Anna chose never to reveal the truth during her lifetime, taking the answer with her to the grave. So far, she has not returned to shed light on the real nature of her act, and Anna Eva Fay remains a fascinating enigma in the annals of Spiritualist history.


© All rights reserved Psychic News and Jim & Lis Warwood
We were very greatful to receive the c0ngratulatory email from Barry Wiley, who had issued the detailed biography on Anna, noting the accuracy of this piece with a minor issue about one of the marriage dates for our future reference.
One feature missing above is the way the trick with the question and the pad was conducted. The pads were marked to indicate which part of the room the questioner was in, only one question was written onto each pad and the pads had, on the last page, powder which would show what had been written by the person seeking an answer. Ingeneous and highly effective.

Admin

Admin





Amongst the elements in the interesting email from Barry two points stand out.

1. Fay and Houdini became friends in 1912 not after her retirement which helps to explain her acceptance by the Magic Circle.

2. Crookes endorsed Fay only on the results of the galvanometer seances, not on anything else, though that point was ignored by all the critics. Barry devotes a chapter to this test and how it may have been defeated.

My memory was wrong in that it was not a marriage date.

Jim

Admin

Admin





In a nice personal email Barry Wiley pointed out to me that Anna Eva Fay had in fact known Houdini from about 1912 to Annie's death in 1927. Their relationship began as professional colleagues to becoming on very friendly relations. Houdini, called Fay "the greatest female mystifier." Jim has already pointed out the chapter Wiley devoted to the galvanometer tests.

He also made clear that Anna's 'husband' Henry Fay was a con man who used whatever name(s) were necessary. I believe I would be correct in saying that Barry Wiley is of the view, after some twenty years of intensive research that she was the quintessential con woman, who may have had some level of ability to produce certain psychical phenomena on rare occasions but was for all intensive purposes not a medium but a performer.

If Barry, after that amount of investigation into Anna Eva Fay is of that view, I am prepared to stick my neck out too and say I think he is probably right.

As an example of the level she went to in creating an illusion for herself she frequently became Anna Eva Fay from London Eng. in the reports from Newspapers. We see this in various papers such as the 1906 The Minneapolis Journal and as far back as 1894 in the Roanoke Times.

Admin

Admin





There is no doubt that Eva could promote herself with all the spin of Modern PR presenting a series of overstated claims, unprovable and incorrect to heighten her mystery.
Another example is this
16 Nov 1895 The Courier Lincoln Nebraska
Fay is well known throughout the scientific world and almost as familiar to the amusement public, therefore it would be superfluous to expatiate upon her marvelous powers. For one year and nine months .Miss Fay appeared In the Queen's concert rooms in Hanover square, before the Czar of Russia, the late emperor of Germany, in fact been feted by royalty in every country of the old world.
Appearing before the leading societies and scientists of the world she has created a sensation and proved an enigma. Her appearance before the royal scientific society of London was spoken of at some length by Prof. Wm. Crooks in the Journal of Science. Her journey to India was primarily for purpose of finding the talking head left behind by her friend Mme. Blavatsky. In this she was unsuccessful, but developed in India a series of startling and mysterious experiments that wonderful beyond human conception and apparently unfathomable. The most prominent of this is her latest sensation, Somnolency, beyond all doubt the greatest acroamatic bewilderment presented ever to the world.
We now have Czars, Other Royalty, travels through Europe, friendship with Mmme Blavatsky. She was an amazing Lady who kept her show going for years working steadily round the USA as the newspaper articles track her.

Admin

Admin





NATIONAL REPUBLICAN RECORD Monday Dec 20th 1886

INTERRUPTED PERFORMANCE
Miss Anna Eva Fay's Entertainment Abruptly Closed
An overwhelming audience was in attendance at the National Theatre last night to witness the performance of the "Phantom Princess" Miss Anna Eva Fay In spiritualism. It was entitled a 'Religious Illustrated Lecture.' Religion had nothing to do with it. The illustrations, chiefly in a cabinet, though announced for "full light on the open stage" were only the legerdemain tricks usual on such occasions and the lecture could hardly be classed under that head. There was much disturbance during the "entertainment" by demands, objections and various cries from every put of the house. Mr Bishop the "mind reader" offered, adding a wager, to perform the same tricks and was applauded and hissed, many wishing to "put him out," others insisting that he should take the stage. The better portion of the audience sided with the lady. The "English medium" addressed the multitude persuasively. It produced no pacific effect. She spoke pertly, then angrily without any better effect. Finally she refused to go on with the exhibition, passed away into the mysterious region of the scenery and down fell the curtain. Then rose the audience with all possible noises of wrath, and with shouts of, "To the Box Office," "Our money ! Our money!" But the box office was found closed and the silver vulture had flown. There was considerable unfavourable comment In regard to the conduct of Mr Bishop many asserting he should not have interrupted the performance, but the lady should have been permitted to conduct the entertainment in her own way.

Admin

Admin





Outrageous claims reflecting egotism.

Spirit, in my experience, point to the message and only very rarely to the messenger.

The focus is generally on today and tomorrow, while the 'Great so & so' basks in yesterday.

hiorta





Hiorta,
The story of her erstwhile ex assistant Bishop is really fascinating. The biggest problem, in terms of Anna, Maskelyne et al. is that it becomes fairly clear that the Davenport Brothers were also magicians not mediums. In terms of Anna I do not think we should rely upon ego she became a great entertainer in the Vaudeville era and close friend of Houdini.

The whole issue creates a major short circuit about what is and what is not real in our whole Spiritualist belief system. In some ways what Azur has done, for all the right reasons,  is to highlight the fact that we all really need to be discerning and check the real history of our past. Then we need to ensure that it proves Spirit are genuinely involved. Much more to come on this subject........and Victoria Woodhull, indeed I have much more time for Anna than the political ideas of Victoria, which led her to try to become president  of the National Association of USA Spiritualists.

Last edited by Admin on Tue Mar 06, 2018 11:05 pm; edited 2 times in total

Admin

Admin





Similar topics
---
Permissions in this forum:
You
cannot
reply to topics in this forum