And best wishes to all my friends in Oz!
Jim
It's over now but the day was beautiful where I live
.
Lots of celebrations all over the place and excellent tennis and cricket to watch if you're so inclined.
I always enjoy attending or watching the citizenship ceremonies which always occur on this day. They remind me how lucky we are to live here.
Very restful dy with tennis and test cricket. Adelaide oval was a full house, now there is a place I love to go but not yesterday.

Admin

Admin





I was once a £10 pom... Fond memories of fairy meadow, Wollongong.
Still have lots of family in Oz and always think of them on Australia day

_Leslie_





The rain stopped long enough yesterday for us to do some cleaning up outside and get ready for the rain/storms/floods that we're expecting over the next few days - you know it's flood season in Queensland when you see people at the supermarket stocking up on bottled water and toilet paper

Wes





Hi Wes,
Given the annual rainfall can I suggest that you buy one of these and stabilise it on a block to live in, then when the floods arrive you can use it to cruise about helpin others.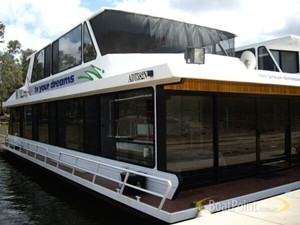 Alternatively you could come back to a dry state like SA...If you had this last year you could almost have cruised here.
I do pray nothing gets as bad as last year though and you are all spared the worst

Admin

Admin





I missed the ten pound pom scheme paying full tote odds for my air fare. Indeed although then married to an aussie I also had to qualify as a required profession. 28 years ago this year.

Admin

Admin





"Trainee medium" was a required profession?

Wes





Absolutely I was in trance at the time.

Admin

Admin





Is that another way of saying you were in a daze?

Wes





Similar topics
---
Permissions in this forum:
You
cannot
reply to topics in this forum