What a subject to try an coalesce into a topic. Excuse me for all the other "Angelic" references in recent history such as their involvement with the founding of the Mormons etc. really I was just looking at the way they entered our belief system.
I also aplogise to the many other belief systems not mentioned and the sub cults of the major beliefs missed out. However, it becomes interesting to see how limited are the places that Angels actually devolve from.
Angels
It is interesting to see that the first reference to winged people comes from the 'vulture shrine' in the town of Çatal Hüyük, a fascinating site still being excavated at Anatolia, Turkey. Çatal Hüyük culture dates back to 7,200 BC (a long time ago to be sure) and yet these people were (perhaps) surprisingly sophisticated. A history of this culture and the early cultures that followed can be found here http://www.stockton.edu/~gilmorew/consorti/1anear.htm#PART 1. this is William J. Gilmore-Lehne's Study of Çatal Hüyük
In the religious tradition of this place burial was by excarnation, a process where the bodies were left on towers in the sky (similar to the traditions of some North American Indians) for the birds to eat (essentially the vultures). This is illustrated by this fresco discovered at Catal Huyuk.
Once the flesh had been removed the skeletons were then taken down and reburied in the family home a foot under the surface of sleeping platforms ensuring a close link with those who had passed over.
This intimate link with the vulture is reflected both in carvings around the town and in the vulture shrine. It appears this may then have developed into a cultural religious practice because a mural at Çatal Hüyük apparently shows a human being dressed in a vulture skin. Indeed in a cave used for burials by the Zawi Chami people around 8870 BC (plus or minus 300 years, according to carbon-dating) at the Greater Zab river in Kurdistan they discovered a number of goat skulls placed next to the wing bones of large predatory birds, including the bearded vulture, the griffon vulture, the white-tailed sea eagle and the great bustard. It appeared the wings had almost certainly been utilised as part of some kind of ritualistic costume, worn either for personal decoration or for ceremonial purposes. There are other sites which predates even these places Göbekli Tepe, the Oldest Temple in the World, constructed as early as 11,500-11,000 years ago in southeast Turkey and of similar ages Karahantepe, Sefertepe and Hamzantepe. There is sufficient evidence to show that Catal Huyuk was an expression of a more sophisticated expression of the same civilization.
What history also shows is that these vultures, although synonomous with death were not the only element that was worshipped. It does appear that the more serious historical writers have focused more upon the relationship to the Bull and the fact that skeletons of bulls featured just as prominently. Since no sacrificial altars, either for human or animal sacrifice, have been located at the sites, scholars suggest that the bulls' heads were symbols of the respect, appropriate for a major source of food and clothing.
Clearly we have, for a period of possibly over 4,000 years, one of our earliest civilizations, where dying is intricately linked with vultures and a people where it is quite likely that priests in vulture robes over saw the death rites. It becomes quite clear that these individuals would have risen to major status, with myths and legends abounding from such a remarkable source.
It is at this time life gets more difficult because modern man has attempted to take the little we know factually about this people and weave into the story the images from the Book of Enoch and of the Watchers. Other books mix in the story of the fallen angels to create very interesting Factual/Fictional mocumentary books in a style followed by writers like Dan Brown.
What is clear is that this is truly where the concept of the Shaman came from, the interpreters of the past quickly take up this name but historians shy away from it. The term Shaman is from Turkey and from there up to Siberia (and of course spreading from there to North America, although the term Shaman is not used by the Indigenous tribes there) in the waves of movement which I will mention later,
Andrew Collins, who wrote about these early temples, a possible link to the Garden of Eden, the watchers and the Book of Enoch summarized the following passage "I can only repeat what I have said above. We are talking about a cult of birdmen, vulture shamans, who would eventually be remembered as the Watchers of the Book of Enoch and the angels of biblical tradition. No 'angel' has been found at Göbekli Tepe, simply carved statues of men with wings on their backs. These hybrids are likely to be shamans wearing wings, not supernatural beings. It is worth noting that originally angels never had wings - these were added to existing stories by the early Christians during the fourth century AD. In fact, there are some accounts of Watchers wearing cloaks of feathers, which in one case was altered in Christian times to read 'wings' instead of feathers."
Although I find this well written and historically researched I have major concerns with the possible leaps of logic that take his arguments forward in this passage. I must agree that. "No 'angel' has been found at Göbekli Tepe, simply carved statues of men with wings on their backs. These hybrids are likely to be shamans wearing wings, not supernatural beings", because they were clearly a form of priest that looked after the death ritual. The rest relies on the acceptance of new elements into the belief which appear, historically, not to be there
It was an interesting time to look back on and the Turkish people had their own stories of creation. In many ways these can be viewed as the earliest on record coming from a time when the hunter gatherer tribes started to organize into towns and villages during this extended period of time. It is hard now to establish the fact from the fiction but we do find that the Gods referred to in their mythology appear in many forms along the waves of the migrations that took place.
From an historical work, chapter III (pp 71-95) of Rafael Bezertinov's book "TENGRIANISM: RELIGION OF TURKS AND MONGOLS", Naberezhnye Chelny, 2000 we get some insights into the structure of these early beliefs
"The ancient Turks believed that 17 Deities ruled the Universe, whilst the Mongols counted 99. From ancient and medieval sources (Turkish, Mongolian, Chinese, Byzantine, Arab and Persian) we learn that in both the Turkic and Mongolian Pantheons superiority belonged to Tengri. …. Prayers to Tengri were only for health and assistance in good deeds. Tengri later received a Persian name (Khodai) and missionaries attempted to identify him with the Christian God or the Islamic Allah, in order to win converts. However, the great Sky God, Tengri became neither God, nor Allah."
The attempts to record the history record the use of the word Shamans
In Mongolian Mythological painting Tengri is depicted as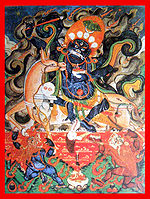 Last edited by Admin on Wed Apr 15, 2009 7:40 am; edited 5 times in total

Admin

Admin





Part 2

A modern interpretation of the earliest creation myth by artist Can Göknil in "Creation Myths from Central Asia to Anatolia Images from the Creation Myths of the Turks "
"In ancient Turkish beliefs, Tangri (God) Kara Han is a pure, white goose that flies constantly over an endless expanse of water (time). From beneath the water Ak Ana ("White Mother") calls out to him saying "Create". To overcome his loneliness, Kara Han creates Er Kishi, who is not as pure or as white as he is. Together they set up the world. Er Kishi becomes the lord of the Underworld and strives to mislead people and draw them into its darkness. Kara Han assumes the name Tangri Ulgen and withdraws into Heaven from which he tries to provide people with guidance through envoys and sacred creatures that he sends among them. The Ak Tangris occupy the fifth level of Heaven. Shaman priests who want to reach Tangri Ulgen never get further than this level, where they convey their wishes to the divine envoys. Returns to earth or to the human level take place in a goose-shaped vessel.

Lesser divinities called Yer-Su dwell in the land, mountains, and riverbanks. They have undertaken the duty of protecting people against Erlik Han, however their power is limited to the river or mountain where they live.

Shamanism is a system of belief common to the Turks of Central Asia. Both men and women could be shaman priests and among old Turkish groups they were called "Kam". Kams dressed in elaborate garments to display their supernatural powers. Accompanied by the beating of drums in their rituals, they believed they could fly with the aid of their own guardian animal. During such flights they reached various levels of Heaven or the Underworld. Upon returning to this world, they used the information they had learned during their journey for the benefit of their followers"

Beginning at least by the end of the fourth millennium BC, there was a movement of people, whose distinct ethnicity we have come to call 'Indo-European', from Europe to Central Asia, and even as far as North India. This movement, which was centered upon this early area, is still shrouded in a degree of mystery but it would appear that there were probably a number of migratory 'waves' in an easterly direction up to and including the first millennium BC, reaching a peak around 2000 BC. Among other things this migration helps explain the similarities between the ancient Greek and ancient Sanskrit languages. Modern Tajik is a linguistic relative. Additionally we find for example the God Mithras in Greece, Central Asia and as Mitra in the Rig-Veda, the most ancient of all Hindu 'texts' (that possibly goes back in spoken form to 3,000 BC). On top of that similar artifacts travel to and from this whole region.

It is a long discourse but it becomes important to look at because the traditions of this long period of history never included Angels. Indeed in the cultures which maintain a Shamanistic basis (including the traditional North American Indian rituals) the ideas of Angels remain absent unless they have been absorbed from another culture.

What we have done is to set the scene for what has become a significant complication in belief systems building upon these earliest developments. We start to see the development of the concept of angels. The word 'angel' comes from the Greek angelos, which is also thought to be a translation of the Hebrew word mal'akh, meaning 'messenger'. Taking the way this word developed back further it suggests a being responsible for carrying messages between the human world and some other realm or realms of existence, someone who is an intermediary. We could well have a projection occurring from the Kams, Turkish Shaman who "believed they could fly with the aid of their own guardian animal" and take messages to the Gods. Suddenly the concept of human priests wearing vulture costumes is moving toward winged messengers of the Gods, it is worth remembering here the point that Andrew Collins made "It is worth noting that originally angels never had wings - these were added to existing stories by the early Christians during the fourth century AD."

The first civilization to leave us carvings and reliefs concerning a prototype angel was the Sumerian at around 3,000 BC, living around modern Syria and Iraq. They had a complex religion, embracing a wide variety of spirits and gods. However they also had a particular belief in 'messengers of the gods', angelic forces who ran errands between gods and humans. These are the same civilization who believed in a 'ghost' of some sort as 'guardian angel' with this entity remaining a constant companion for a person throughout their life.

Around 1900 BC they were conquered by Semitic Tribes who believed in multiple Gods to which pantheon they added the concept of Angels. They then made this more complex by ranking the forces of the angels, creating a blend which found its way into Zoroastrianism, monotheistic Judaism and beyond. It is thought that with the decline of Sumeria and the rise of Babylon and Assyria the idea of angels spread clearly into these two civilizations as depicted upon carvings. By 2,500 BC they also started to appear in the Eygptian Culture.

The next major worship to appear was that of Mithras, around 1500 BC, Mithras was a light-bringer god, whose cult flourished between 1500 BC and the time of Christ. This spread into lands as far apart as India and Great Britain. The religion was based upon what was then known as Persia. In the friezes created at the time Mithras was often depicted more as an Angel than a God.

The next movement to create an impact was led by Zoroaster who was member of the ethnic grouping involved in these migrations in Asia. He lived in Persia around 650 BC, and claimed he received angelic communications. He used these teachings to create and spread a monotheistic religious message. This was to become the religion of the Persian Empire (prior to Islam) it was a religion which influenced both Muslim and Judaic thought (and hence also Christianity).

Zoroastrianism identified six main archangels: the Archangel of Good Thought, the Archangel of Right, the Archangel of Dominion, the Archangel of Piety, the Archangel of Prosperity and the Archangel of Immorality, along with at least 40 lesser angels called Adorable Ones. Some of these angels/archangels were considered to be male, some were considered to be female, and each one was associated with some particular attribute or quality. There was a lower third rank of angels, the Guardian Angels, each one assigned as guide, conscience, protector and helpmate throughout the life of one single human being.

All of the various hierarchies of angels were considered to be divine gifts, all of them aspects or manifestations of the one 'Lord of Light'. Zoroastrians also believed there was a corresponding Lord of Darkness, with complementary demons and evil spirits, and it was felt that in the battle between light and darkness the forces of light would eventually win.

Remembering the common ground we may have started with creating an idea of the history of angels takes great lengths to achieve. In Zoroastrianism, demons are referred to as daevas, opposing 'angelic' forces ahuras. In the ancient Hinduism of the Vedas demons referred to as asuras, in opposition to 'divine' forces devas.

A present-day Western 'devil' derives from the Zoroastrian daeva (or demon) in combination with the Greek word daibolos, meaning 'slanderer' or 'accuser', which elaborately appears to try to embody the Jewish concept of Satan.

Judaism was formed as a monotheistic religion by the semitic tribes over a long period, starting from their original polytheistic belief systems the change occurred around the time of Moses, circa 1300 BC. The religion formed from the original tribal beliefs but was greatly affected by Zoroastrianism. Naturally the impact of this belief with its inclusion of angels linked with the belief of the Sumerians which had partially been absorbed in the Semitic pantheon after their conquest of that tribe. Indeed over time they increased the numbers of the angelic forces a process which has ceased in the traditional Hebrew religion although in the Kabbalah it seems to have continued.

The Greeks added the halo into the angelic mix via there God Helios and also helped to incorporate various winged images. The Greek cosmology went on to affect the early Christians, who also adopted the Angels from the Jewish Torah (the old testament) as well. It also seems to have stepped back to accept, in some form, the concept of a guardian angel.

Clearly affected by Judaism, from which it has a common foundation, Christianity and by Zoroastrianism the Islam religion also adopted the concept of angels.

So from way back we have angels as messengers of god. However, it seems fairly clear that this concept may well have come from the Shamans who could travel to speak with the Gods. It is a fascinating history on its own without any of the added New Age/Theosophical bells and whistles that make the Angels and Archangels seem so important now. Of course both the Kabbalah and Indian Influences were major drivers for the Theosophists, who continued to propound and develop new realms of angels. It is from this source that the New Age took its inspiration to generate the mass of new Angels and Arch Angels. To me this takes something which already is more myth and legend than reality to another level entirely. This is a level where it is impossible to create any verifiable proof.

I have heard arguments to justify Angels, which relate to the famous case of the "Angel of Mons" in the First World War. However, sadly, when you go back and look at the facts of this case the Society Of Psychical Research's investigation found not one first hand witness of the event despite the thousands present and it is just another legend where the fiction has overridden the truth. Amusingly the oddest explanation was German Propagandists projecting the image from cameras on planes onto clouds to convince the Allies God was on their side. I would love to have seen the old bi plane with a hand wound camera on it.

When I look at this potted history I think I become more comfortable with the simple approach adopted by Spiritualism. There may be angels but their role and involvement is beyond our comprehension. That we each work with one or more Spirit Guides beginning with our doorkeeper/gatekeeper who walks our life journey with us to be there when needed. Other guides' may step in to help in certain work we set out to do for Spirit. Interestingly though, this concept is not a long way from the Sumerian and Zoroastrian Guardian Angel their "lower level" entities from God.

Admin

Admin





I have heard arguments to justify Angels, which relate to the famous case of the "Angel of Mons" in the First World War. However, sadly, when you go back and look at the facts of this case the Society Of Psychical Research's investigation found not one first hand witness of the event despite the thousands present and it is just another legend where the fiction has overridden the truth. Amusingly the oddest explanation was German Propagandists projecting the image from cameras on planes onto clouds to convince the Allies God was on their side. I would love to have seen the old bi plane with a hand wound camera on it.
From "Two Worlds" - November 2006:
The Angels of Mons are supposedly a group of angels who protected members of the British army in the Battle of Mons at the outset of World War I. They are now generally believed to have been fictitious and developed through a combination of a patriotic short story by Arthur Machen, a London journalist, rumours and urban legend, some actual visions seen after the battle and also possibly deliberately seeded propaganda.
On August 22-23 1914, the first major engagement of the British Expeditionary Force in the First World War occurred at the Battle of Mons. Advancing German forces were thrown back by heavily outnumbered British troops, who also suffering casualties and being outflanked were forced into rapid retreat the next day.
On April 24, 1915, an account was published in the British Spiritualist magazine telling of visions of a supernatural force that miraculously intervened to help the British at the decisive moment of the battle. This rapidly resulted in a flurry of similar accounts and the spread of wild rumours. Descriptions of this force varied from it being medieval longbow men alongside Saint George, to a strange luminous cloud, though eventually the most popular version came to be angelic warriors. Similar tales of such battlefield visions occurred in medieval and ancient warfare. However there are strong similarities between many of these accounts and Arthur Machen's short story The Bowmen first published six months earlier on September 29, 1914 in the London newspaper, the Evening News.
Machen was a journalist on the paper and although he was a well known author of supernatural stories there was no indication that Machen's story was fiction when it was originally published, and as it was written from a first hand perspective it was a kind of 'false document' a technique Machen knew well. The story described bowmen from the Battle of Agincourt summoned by a soldier calling on Saint George, destroying a German host. The unintended result was that Machen had a number of requests to provide evidence for his sources quite soon after publication, to which he responded it was completely imaginary, as he had no desire to create a hoax.
It was not until May 1915 that a full blown controversy was erupting with the angels being used of proof of the action of divine providence on the side of the Allies in sermons across Britain. Machen, bemused by all this attempted to end the rumours by republishing the story in August in book form with a long preface stating the rumours were false and originated in his story. It became a bestseller and merely resulted in a vast series of other publications claiming to provide evidence proving the Angels existence.
However, all these reports confirming sightings of supernatural activity were at best second-hand and some of them even quoted soldiers who were not at Mons. A careful investigation by the Society for Psychical Research in 1915 said of the first-hand testimony, "we have received none at all, and of testimony at second-hand we have none that would justify us in assuming the occurrence of any supernormal phenomenon." The SPR went on to say the stories relating to battlefield "visions" which circulated during the spring and summer of 1915, "prove on investigation to be founded on mere rumour, and cannot be traced to any authoritative source."
Friedrich Herzenwirth, a director of the German espionage system, published his memoirs in February, 1930, and writes that the Angels of Mons were motion pictures, projected by German flyers on the clouds to make the English troops believe that even God was on the German side.
Hi Z
Thanks for posting that it was that article I was thinking of when I wrote about the Angel of Mons.

Interesting too looking at that history, a study of the original Celtic Religion which reached the British Isles shows that although the names may have changed many of the pantheon of deities remained. Certainly the Sky God appears although now called Matres and the horse-goddess now called Epona. In reality we possess little that is written about this religion but in keeping with the origins it came from, probably in one of the waves of migration, is there were no Angels. Yes they believed in another world and it is clear that Druids believed in mind, body and spirit.

Once again much that is now seen as Celtic has developed in a romantic way over the last two centuries and may have little to do with reality. However, their version of reality allowed for the appearance of the little folk as denizens of the other world who could at times step through the boundary.

It is sad that so many in the New Age now intertwine Celtic, Shamanism and Angels into a mix as if it had always existed whereas each belongs to a seperate set of belief systems with quiyte different values.

Jim

Admin

Admin





"It is sad that so many in the New Age now intertwine Celtic, Shamanism and Angels into a mix as if it had always existed whereas each belongs to a seperate set of belief systems with quite different values."
And
I
find it sad that so many still need fantasy - whatever its source, however inaccurate it might be.
Yet I understand that when their time is right they will put such notions to one side as they move forward.
One of the things I need to learn is to accept this....
Similar topics
---
Permissions in this forum:
You
cannot
reply to topics in this forum