This man was a fascinating and extremely Gifted photographer who was extremely influential in the development of Photography.
https://libmma.contentdm.oclc.org/digital/api/collection/p16028coll12/id/14977/download
André-Adolphe-Eugène Disdéri
French, 1819-1889
[Elie Cabrol and the Spirit Apparition of the
Vicomte de Renneville], 1859
Albumen silver print
Bibliothèque Nationale de France,
Département des Estampes et de la Photographie, Paris
Disdéri invented the photographie carte-de-visite in 1854, and during the next
decade all of Parisian society came to parade before his camera. The fantastic
demands of certain clients turned some sittings into scenes worthy of a Punch
and Judy show. The upper part of this studio proof shows two friends, Elie
Cabrol and the vicomte de Renneville, posing together
and alone. In the lower part, the vicomte appears as a spirit, completely
naked, wearing a helmet and holding a shield in the ancient style.
This photograph and the others on this wall were intended primarily as
hoaxes or amusements, not as genuine photographs of spirits.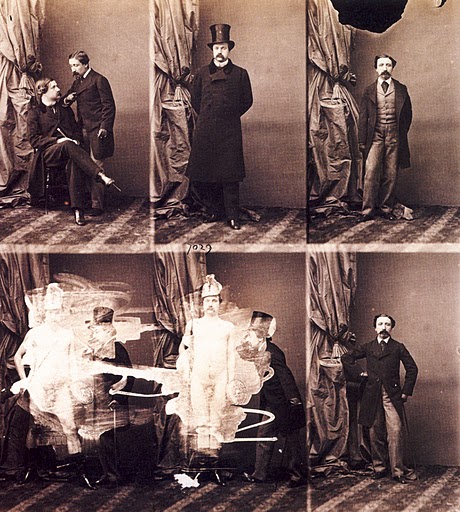 Admin

Admin





---
Permissions in this forum:
You
cannot
reply to topics in this forum