DISCOVERY CONCERNING GHOSTS George Cruikshank 1863
George Cruikshank was originally writing as a response to an 1828 book by Dr Hibbert "Philosophy of Apparitions" sometime in 1830-1840. Cruikshank was a frequent illustrator for Charles Dickens during the entire period
I extract the following rather amusing quote from Cruikshank's book which was reprinted on the above date with an addenda against the spirit rappers. The book with its illustrations is on Google Books
http://books.google.com/books?id=SCECAAAAQAAJ&pg=RA1-PA26&dq=ghost+stockings+cruikshank+ghost+trouser&ei=b8__SJCXJYPstAO8wdjCDA (you may have to cut and paste the entire thing)
An early sceptic but fun
"From the various instances of the appearance of apparitions which have
been brought before the reader, it will, I presume, be admitted that abundant
and sufficient proof has been given that the writers about ghosts, and all
those who have professed to have seen ghosts, declare that they appear in the
dresses which, they wore in their lifetime ; but from all I have been able to
learn, it does not appear that from the days of Pliny the younger down to the
days of Shakespeare, and from thence down to the present time, THAT ANY
ONE HAS EVER THOUGHT OF THE GROSS ABSURDITY, AND
IMPOSSIBILITY, OF THERE BEING SUCH THINGS AS GHOSTS
OF WEARING APPAREL, IRON ARMOUR, WALKING STICKS, AND
SHOVELS ! NO, NOT ONE, except myself, and this I claim as my
DISCOVERY CONCERNING GHOSTS, and that therefore it follows, as a
matter of course, that as ghosts cannot, must not, dare not, for decency's sake,
appear WITHOUT CLOTHES ; and as there can be no such things AS
GHOSTS OR SPIRITS OF CLOTHES, why, then, it appears that GHOSTS
NEVER DID APPEAR, AND NEVER CAN APPEAR, at any rate not in
the way in which they have been hitherto supposed to appear.
And now let us glance at the material question, or question of materialism.
In the year 1828, a work was published, entitled " PAST FEELINGS RENOVATED ;
or, IDEAS occasioned by the perusal of DR. HIBBERT'S PHILOSOPHY of
APPARITIONS," which the author says were "written with the view of counteracting
any sentiments approaching materialism, which that work, however
unintentional on the part of the author, may have a tendency to produce."
The author of " Past Feelings Renovated " is a firm believer in apparitions,
who generally " come in their habits as they lived ; " and in his preface he says,
The general tendency of Dr. Hibbert's work, and evident fallacy of many of the
arguments in support of opinions too nearly ajpiprosichiiig' materialism,' induced
This author, it will be perceived, is very much opposed to anything like "
materialism " in relation to this question, and is strongly in favour of "
spiritualism," but will he be so good as to tell us what " A PAIR OF BUCKSKINS"
are made of? and what A PAIR OF TOP-BOOTS are made of? and whether these
materials are spiritualized by any process, or whether THE CLOTHES WE
WEAR ON OUR BODIES BECOME A PART AND PARCEL
OF OUR SOULS ? And as it is clearly impossible for spirits to wear
dresses made of the materials of the earth, we should like to know if
there are spiritual- outfitting shops for the clothing of ghosts who pay
visits on earth, and if empty, haunted houses are used for this purpose,
in the same way as the establishments, and after the manner of " Moses
and Son," or " Hyam Brothers," or such like houses of business, or if so,
then there must be also the spirit of woollen cloth, the spirit of leather, the
spirit of a coat, the spirit of boots and shoes. There must also be the spirit
of trousers, spirits of gaiters, waistcoats, neckties, spirits of buckles, for
shoes and knees ; spirit of buttons, " bright gilt buttons ;" spirits of hats,
caps, bonnets, gowns, and petticoats ; spirits of hoops and crinoline, and
ghost's stockings. Yes ; only think of the ghosts of stockings, but if the
ghost of a lady had to make her appearance here, she could not present herself
before company without her shoes and stockings, so títere must be
GHOSTS OF STOCKINGS.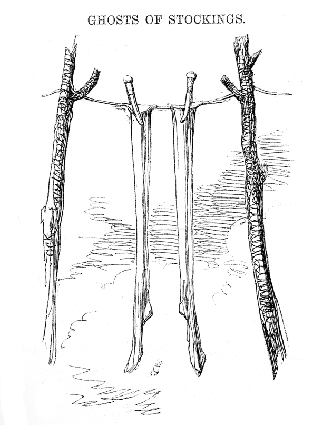 Most persona will surely feel some hesitation in accepting the assertions made by Defoe, that ghosts appear in clothes that have been cut up, or
distributed in different places, or destroyed, or that they come in the same
garments that are being worn at the same moment by living persons, or
which are at the time of appearing, in wardrobes or old clothes shops ; or,
perhaps, thousands of miles away from the spot where the ghost pays his
unwelcome visit, or worn or torn into rags, and stuck upon a broomstick "
to frighten away the crows." No, no, I think we may rest assured that
ghosts could not appear in these dresses, or shreds and patches ; in fact,
that they could not show themselves in any dress made of the materials of
the earth as already suggested ; and, therefore, if they did wear any dresses
they must have been composed of a spiritual material, if it be possible to
unite, in any way, two such opposites. Then comes the question, from
whence is this spiritual material obtained, and also if there are spirit manufactories,
spirit weavers and spinners, and spirit tanners and "tan pits ?""

Admin

Admin





Similar topics
---
Permissions in this forum:
You
cannot
reply to topics in this forum