The concept of Summerland became so embedded in early Spiritualism that it has now also spread into Wicca, Paganism and Theosophy.
Yet it originated from Swedenborg as adapted by Andrew Jackson Davis. It is fully elucidated in his book The Stellar Key to the Summerland. Unfortunately between the Victorian phraseology, the errors in scientific understanding and the overall construction this is one Trance work which has not stood up to the test of time very well. To give it any credence you have to sidestep rational thoughts and knowledge to try and reinterpret what was written. Because AJ Davis was so influential in the creation of the Lyceum movement his Trance work may have an effect disproportianate to the actual quality or reality of the material.
I feel this is very much true of Summerland an idea that AJD was seminal in placing to the forefront of the minds of early Spiritualists. I doubt that many Spiritualists have actually read the work, AJD's books are notoriously hard work.
So here is the start and first chapter of a stellar key to Summerland.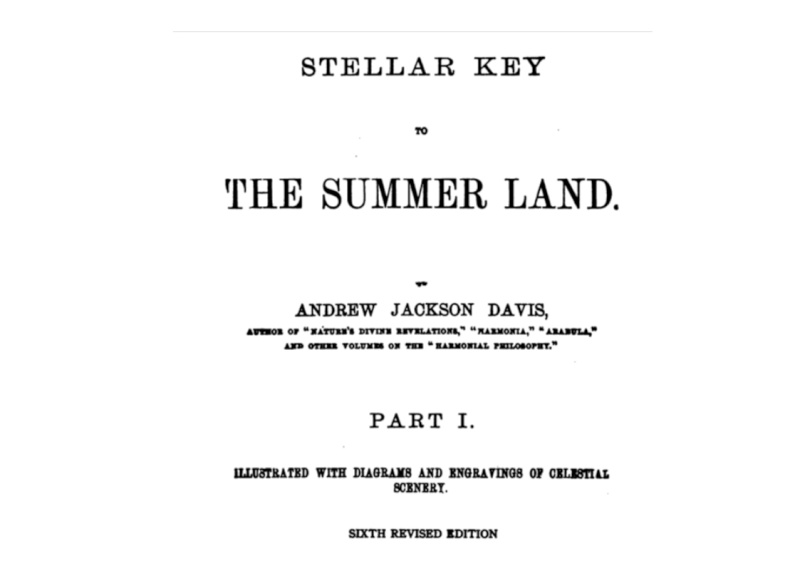 Admin

Admin





Oh well A J Davis could write and was certainly affected by the Victorians' love of the brave new world appearing before them. Sadly this trance material is not for me I am have a great preference for material that may help us on this journey through a physical life, where many of the Silver Birch and Red Cloud words resonate in a much better way.

Admin

Admin





There's nothing factual there that we didn't know already.

normy





Yes to be completely honest I have always struggled with Andrew Jackson davis's trance work some of the rest of his work was Ok. However he was a part of the reason the early movement got pulled into the issues over Free Love which with Victoria Woodhulls advent saw association put back 20 years and to some extent when it came back it was far to fixed compared to the early version.

jim

Admin

Admin





but the vision is sound and matches what other faith pathways tell of too and have done more or less since records began
However you put down SB and Red Cloud while this borrows from other "Faith Systems" that is twaddle Katy and why I ignore the idea of AJD's Summerland. It is just one of many versions of the future and more recently mediums do not get these airy fairy creations from the sub conscious, or maybe try to be more discening than Mr Davis.
Sounds a little like those lyceum centers were doing a job teaching Spiritualism as a faith system not a religion, truth, science and pshilosophy.

Admin

Admin





i once read a piece by a christian "mystic" if you will, a man by the name of finis dake, i believe, he put forth the concept that "heaven" was a physical planet, composed of substance that was of a higher order, much like the summer land concept of A.J. Davis. The way i understand it is that the spirit realm, is like a diminished of reality that is only set apart from our material reality by the space of a heart beat, that heart beat the last one the body takes. Davis wrote of a place, an realm in the dimension of the spirit world where the inhabits continued on in their journey towards spirit evolution, that there are levels and level of spiritual growth on this side of the veil as well as the next, the law of progression and continuance.
i am far from an expert on any of these, i am in a continuous learning phrase of my life and in the next.
Davis writing reminds me of William Shakespeare and Francis beacon and Swedenborg they all might have contributed from the spirit world during his trance work, all wound up together in one pen


taushin





---
Permissions in this forum:
You
cannot
reply to topics in this forum