Hi All,
I put this here because I have no idea where else however teh story about photography is interesting in terms of research although clearly they are non believers
"Appearing late at night as a ghost
April 15, 2007 — Nevin publishers
What was behind Thomas Nevin's escapade on the evening of December 2nd, 1880?
According to Joan Kerr's definitive entry (1992), Thomas Nevin was appointed to the position of keeper of the Hobart Town Hall in January 1876, and "despite a tendency to drink on duty", remained in the position for five years. But on December 3rd, 1880, he was dismissed from the position for being drunk. The previous evening he had been arrested for being
"associated with (or was) a figure in phosphorescent clothing who had been terrorising local residents by appearing late at night as a ghost…"
The charge was dismissed for lack of evidence.
Read the full article here transcribed from The Mercury, December 4th 1880.
http://tasmanianphotographer.blogspot.com/2007/05/nevin-arrested-for-acting-in-concert.html
During the period when Nevin was most active as a photographer (mid 1860s-1884 ca.), the craze for seances, raising the dead and photographing the visits of the dearly departed - usually in the presence of an obliging trance medium - proved a lucrative activity for photographers.
Once having discovered that they could create doubles from positive photographic prints off glass negative plates, they could then "ghost" figures into the image. Perhaps phosphorescence was yet another chemical in the cupboard of the spirit photographers, and Nevin was out that night to mock a duped public and expose the tricks of the spiritualists.
Hobart photographers of the period may well have taken advantage of a gullible public, but none were as bold as William Mummler in Boston, and Frederick A. Hudson in England. In 1872, spiritualist and medium Georgina Houghton (1814-1884) claimed Hudson had achieved the first successful "spirit" photographs with herself as the subject.
An extensive collection of these photographs can be seen online at the KEITH de LELLIS Gallery.
http://www.keithdelellisgallery.com/Exhibitions/Spirit/Spirit2index.html
These examples are typical: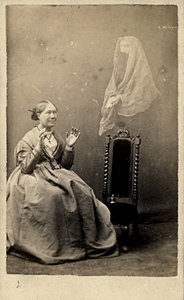 Frederick Hudson My Own Mediumship, Georgina Houghton 1873
John Beattie (no relation to J.W.Beattie?) Spirit Seance 1872
The National Gallery of Australia holds a "spirit album" containing photos by Hudson of Georgina Houghton, plus the Australian spiritualist William H. Terry (1836-1913). The album contains 36 albumen silver cartes de visite ca. 1871-76 by various photographers, ten of which contain images of "spirits". The provenance was probably via The Josef Lebovic Gallery, originating from a Mosman NSW family with links to the Theosophical Movement.
Source of Nevin information:
The Dictionary of Australian artists : painters, sketchers, photographers and engravers to 1870, edited by Joan Kerr."
Fun anyway
Jim

Admin

Admin





Similar topics
---
Permissions in this forum:
You
cannot
reply to topics in this forum